As RDC Partner Bilişim Danışmanlık ve Teknoloji Hizmetleri Anonim Şirketi ("RDC Partner"), we use cookies in some areas of the rdc.com.tr and rdc.com.tr websites ("Site"). This Cookie Policy ("Policy") is valid for this Site managed by RDC Partner and cookies; It will be used as described in the Policy during your visit to the Site.
What is a cookie?
Cookies are small text files created on your device by a website and contain data in name-value format. Cookies enable the website you visit to store information on your device and use this information during your next visits. Cookies created by a website are stored by the internet browser you use to access the site. The information contained in these cookies; Remote access is possible only by websites offered under the domain name that created the cookie (eg rdc.com.tr) and if you use the same browser.
Cookies have become an important part of internet technologies today, and their main functions are remembering the preferences of the online visitor and recognizing the device, and almost every website uses cookies.
Who Sends Cookies and How?
Cookies are sent through the communication established between the browser on your device (such as Google Chrome, Safari, etc.) and the RDC Partner servers during your navigation.
Cookie Type Description
Session Cookies
Session cookies are cookies that are valid during your use of the Site and remain valid until the internet browser is closed.
Persistent Cookies
These cookies are cookies that are stored in your browser and remain valid until they are deleted by you or until the expiration date.
First Party Cookies
First Party Cookies are cookies created by the Site and can only be read by RDC Partner. These cookies can be session cookies or persistent cookies.
Third Party Cookies
In the event that a content offered through the Site is also provided through domain names other than rdc.com.tr & rdc.com.tr (for example, viewing content hosted on a video platform through the Site); are cookies created exclusively by each third-party domain name. These types of cookies generally consist of persistent cookies.
Cookies are used for those purposes;
Compulsory Cookies: These cookies are mandatory for the website to function properly and for you to benefit from the site's features and services. Personal data is not processed through these cookies.
Performance Cookies: These cookies allow us to identify visits and traffic sources in order to measure and improve the performance of our website. They help us to reach the number of visitors to the pages on our website and to see which pages our visitors spend time on in our website. All information collected by the relevant cookies does not contain personal information, as they are evaluated collectively/together, they are anonymous. By means of these cookies, we are trying to make our website more efficient.
Functionality Cookies: These cookies are used to provide advanced functionality and personalization opportunities, such as remembering the language or region selection of our visitors on our website. If you do not allow the use of the relevant cookies, it will not be possible to save your personalized settings on our website.
Targeting Cookies: These cookies are primary and third-party cookies created during your visit to our website and third-party domain names. These cookies make it possible to track your click and visit history in the domains where they were created, and to match these records between different domains. Such cookies are used to identify and profile users, target advertising and marketing activities, and customize content.
Information on Cookies Used on Our Site[1]
The cookies used on the Site managed by RDC Partner are listed below;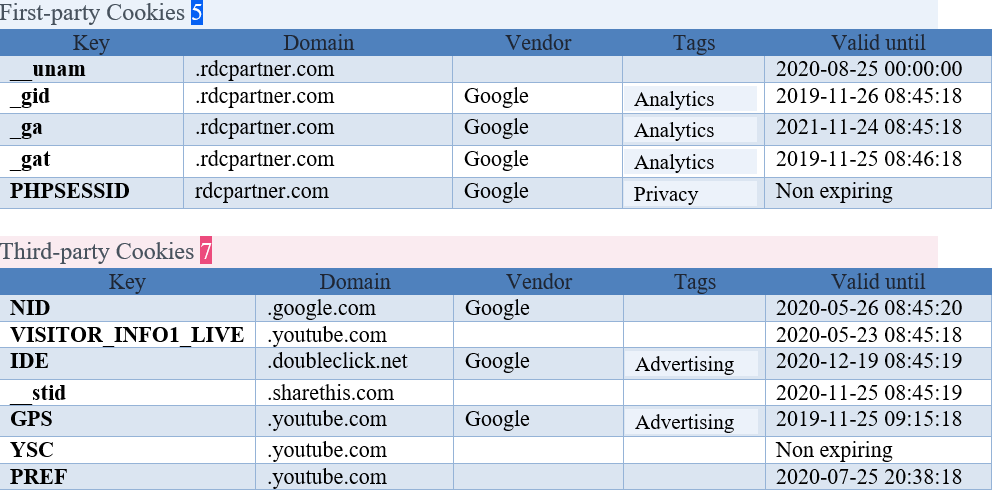 Cookies;
● Remembering your navigation and usage preferences during your visit to our site,
● To facilitate the use of our Site and to customize our Site according to your preferences,
● To ensure that various features and functions of our site work properly,
● Collecting and analyzing anonymous information about how our site is used by our visitors (such as the most clicked links, the most visited pages, the number of error messages viewed); to render faulty pages, to improve our Site, and to remove or improve unpreferred pages,
● To perform advertising and marketing activities by evaluating your usage habits anonymously and to restrict the display of irrelevant advertisements.
used for such purposes.
Management of Cookies
Browsers usually accept cookies automatically. The use of cookies is not mandatory to use our website, but if you set your browser not to accept cookies, the quality of your user experience may decrease and various functions of our sites may be impaired.
your browser; You can configure it to block cookies for all or specific sites, to alert when a cookie is set, to block third-party cookies, or to count all cookies as session cookies. In addition, you can delete cookies through your browser or view the list and values of cookies stored in your browser. For detailed information about the cookie management functions of your browser, please click on the relevant link below and get information from your browser's website.
For more detailed information about cookies, you can visit https://www.aboutcookies.org or https://www.youronlinechoices.eu
RDC Partner uses cookies within the scope of the Clarification Text and reserves the right to change the terms of use and Cookie Policy regarding cookies.